Capabilities
Shaping built environments to function like rainforests
Services
Ecological Placemaking
We develop an ecological vision for the site that is restorative and can provide a net biodiversity gain. This is implemented using curated green and blue strategies that are context-appropriate, ecologically meaningful, biodiverse and climate-resilient whilst balancing human needs.   
The performance gain is demonstrated using well established ecological indicators. 
We have an extensive network of ecologists and conservationists that have an in-depth understanding of habitats and species and are able to engage with the local communities as necessary.
Illustration commissioned by bioSEA
Services
Biodiversity Survey & Impact Assessment
We conduct rigorous biodiversity surveys to record the numbers and types of species found at a site based on scientific surveys of key biodiversity groups such as mammals, birds, butterflies & other insects, plants and through robust statistical analysis. These allow us to predict the number of species that can be found at your site. Surveys can be conducted during the pre-construction phase to provide crucial inputs to the design process, post-construction surveys help assess the ecological success of your design. 
We can evaluate impact assessment reports and develop a long-term biodiversity monitoring and impact mitigation strategy so you can be assured that the animals and plants continue to thrive.
Honey bees are important pollinators for urban and forested landscapes
Services
Ecosystem Service Assessment​
We calculate key ecosystem services provided by the greenery and water bodies that are most relevant to the design such as air filtration, air temperature regulation, noise reduction, erosion control and carbon uptake. 
We can also create baseline scenarios by comparing the development with the ecosystem services of a pristine forest or with a typical/business-as-usual scenario in the same climate regime. So you know how your proposal compares with nature's design and a typically built design.   
These benefits can inform clients on how they can quantitatively achieve environmental benefits in line with the UN Sustainable Development Goals by providing cleaner water, air and soil.
Illustration commissioned by bioSEA
Refer to the Dixie Mall project for details.
Services
Social Impact Assessment
Greenery and water are good for wildlife but how does it impact people? This is a pivotal question in today's built environment.  We answer this by engaging a range of stakeholders from residents to visitors at any site to understand their perceptions and motivations about the greenery of a place.
Families engaged at the community garden on the rooftop of Kampung Admiralty through signboards, medicinal plant scents and visual cues.
Services
Wildlife Infrastructure Design
We guide the design of appropriate ecological infrastructures such as wildlife crossings including eco-bridges, rope bridges and other fauna enhancement structures such as bird nest boxes, and bee hotels.
Services
Biomimicry in Architecture
We consult architects and urban planners on the most relevant natural design strategies. We believe that buildings of today can be more sustainable with biomimicry (i.e. design inspired by nature). 
Our team is trained in mimicking nature's time-tested strategies to solve your most vexing built design problems. This happens best when engaged in the project's design phase, to develop innovative building forms and patterns.
Because there is no framework for this kind of thinking in Southeast Asia, we are developing a toolkit to bring tropical rainforest strategies into architecture for more efficient and sustainable tropical living.
 Illustration commissioned by bioSEA
Illustration labelling:
1 = mimicking termite mounds for efficient cooling;
2 = mimicking chameleon's skin for an interactive façade;
3 = mimicking UV patterns similar to a spider web on glass facades to prevent bird collisions;
4 = mimicking the structures on a lotus leaf to create self-cleaning facades. 
Read more about Biomimicry Design Toolkit GDR Initiative.
Services
Trainings & Workshops
To us, education is the passport to the future. We teach workshops and courses ranging from half-day to semester-long in-depth modules on ecology and biomimicry for architects and designers. These can be a combination of classroom sessions, nature excursions, site visits, teamwork, and experiential learning. We also love to integrate learning with play by creating physical learning spaces that can be nature-inspired aka ecology and biomimicry corners.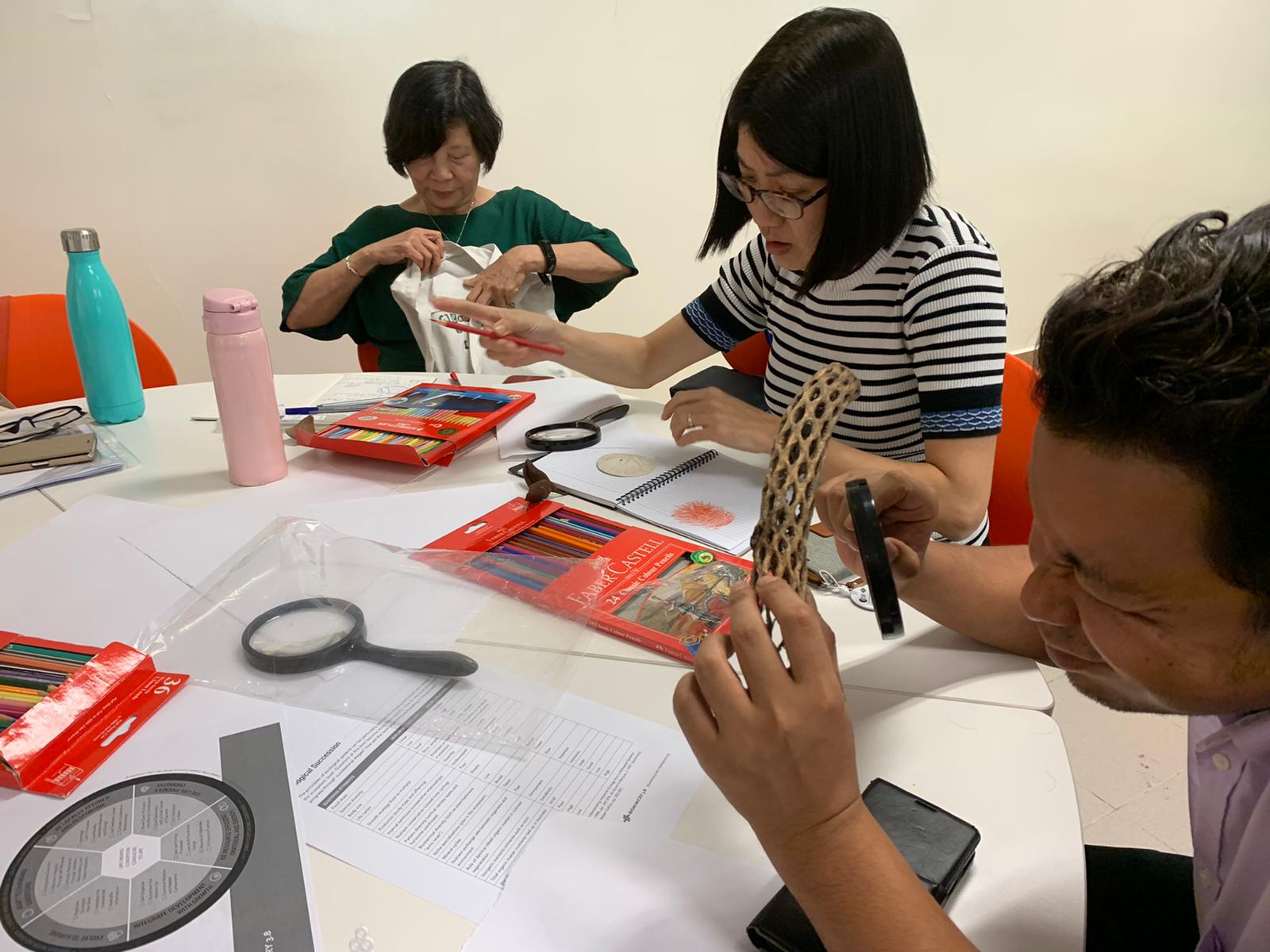 Ministry of Education teachers' biomimicry training workshop.
Biomimicry Flight Workshop at Kranji Marsh
Let's Collaborate
Ready to
work with us?